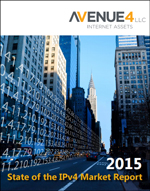 The IPv4 trading market experienced rapid growth in 2015.
Whether your company is active in the IPv4 market or considering whether and when to buy or sell IPv4 assets, understanding this complex and opaque market is crucial.
Avenue4's 2015 State of the IPv4 Market Report assesses the current state of the IPv4 trading market from the North American region's perspective.  We review market activity, present information on pricing trends and examine the effects of IPv6 migration.
The report is based on our extensive experience closing many of the largest deals to date and structuring transactions for the most sophisticated market participants. Avenue4 has helped its clients realize nearly $88 million in value.
Contact us directly to learn more about the IPv4 market or to discuss how we can help your company achieve its goals for 2016.